Product info
Benefits
---
Promotes healthy vision
Nourishes eye tissue and helps support healthy eye circulation
Supports night vision
Helps maintain healthy macular density
Product Classifications
---
Gluten-Free - The finished product contains no detectable gluten.


No Detectable GMO - The finished product contains no detectable genetically modified organisms.

Vegan - The product is made without ingredients produced by or derived from animals.

Isotonic-Capable Supplements - Easy-to-swallow supplements in liquid form are immediately available to the body for absorption

No Pork - This product contains no pork or pork products.


Quality Standards - GMP Operations and Standardized Ingredients
Checked For: Heavy Metals, Microbiological Contaminants, Allergens, Potency, Purity and Identity
Details
---
Maintaining vision health is vital, especially during the ageing process. When light is reflected off an object, the light waves from the object enter the eye through the cornea, which is the transparent front part of the eye that covers the iris, pupil, and anterior chamber. The light is then filtered through to the pupil, which is the black circular or slit shaped opening in the center of the iris that regulates the amount of light that enters the eye. The iris is the colored portion of the eye that controls the pupil. The light then continues through the lens, located behind the iris and pupil, and made up of transparent proteins called crystallins. The light waves are bent or converged by the lens and the cornea to just behind the surface of the lens where it is then reversed and inverted.

The light waves then pass through the vitreous humor, the clear gel between the lens and the retina, which is a thin layer of neural cells that lines the back of the eyeball. The macula is a small yellowish spot located in the middle of the retina that is responsible for the detail of vision by providing visual sharpness and color perception. The retina consists of a large number of photoreceptor cells, which contain a particular protein molecule called an opsin. In humans, there are two types of opsins, rod opsins and cone opsins. Each opsin absorbs a photon (a particle of light) and transmits a signal to the cell through a signal transduction pathway, resulting in hyper-polarisation of the photoreceptor. Within the retina, light waves are changed into electrical signals and then sent through the optic nerve , along the visual pathway , to the occipital cortex at the posterior or back of the brain. The brain is what actually reconstructs or interprets the electrical impulses into a picture.

The intricate process that contributes to visual degradation usually develops over a long time-period, making the need for a protective eye approach even more important. Free radical activity is a constant factor in the body's metabolism. Waiting to begin an antioxidant defense against oxidative stress until the prime senior years may be too late. Promoting visual health is important, and can be accomplished through a healthy diet, exercise and the right supplementation.

Isotonix Vision Formula with Lutein is an isotonic-capable dietary supplement combining vitamins and minerals with lutein, quercetin, eyebright, zeaxanthin and bilberry, designed to promote healthy vision throughout the ageing process. Isotonix Vision Formula helps maintain the structural integrity of blood vessels and capillaries, helps maintain the membranes of cone cells in the eyes, helps maintain lens transparency, helps strengthen the cells of the retina, and promotes healthy oxygen and nutrient flow to the eyes. The antioxidant properties of Isotonix Vision Formula help protect the eyes from oxidative stress. It promotes healthy macular density, promotes healthy vision and supports night vision.

Isotonic, which means "same pressure," bears the same chemical resemblance of the body's blood, plasma and tears. All fluids in the body have a certain concentration, referred to as osmotic pressure. The body's common osmotic pressure, which is isotonic, allows a consistent maintenance of body tissues. In order for a substance to be absorbed and used in the body's metabolism, it must be transported in an isotonic state.

Isotonix dietary supplements are delivered in an isotonic solution. This means that the body has less work to do to in obtaining maximum absorption. The isotonic state of the suspension allows nutrients to pass directly into the small intestine and be rapidly absorbed into the bloodstream. With Isotonix products, little nutritive value is lost, making the absorption of nutrients highly efficient while delivering maximum results.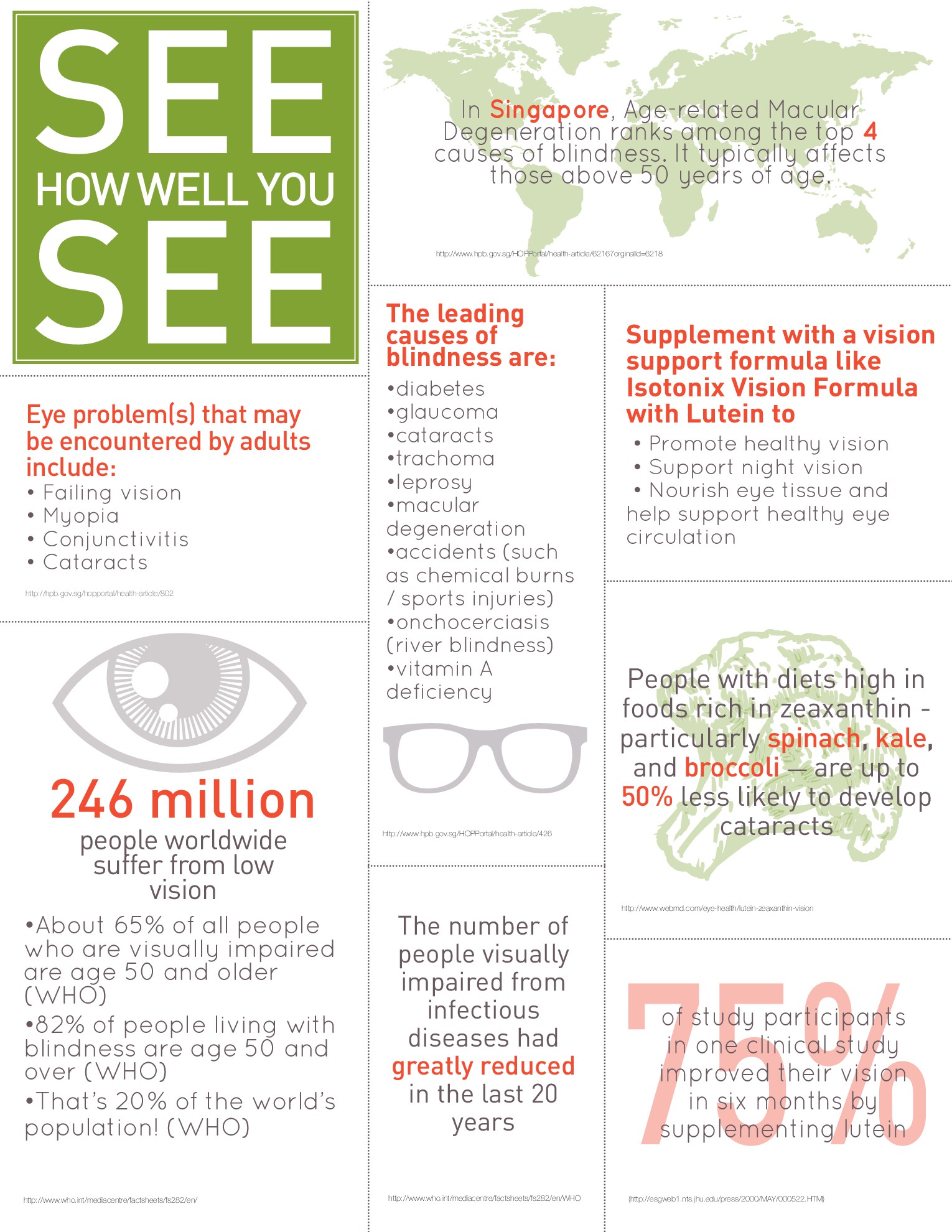 Isotonix Delivery System
---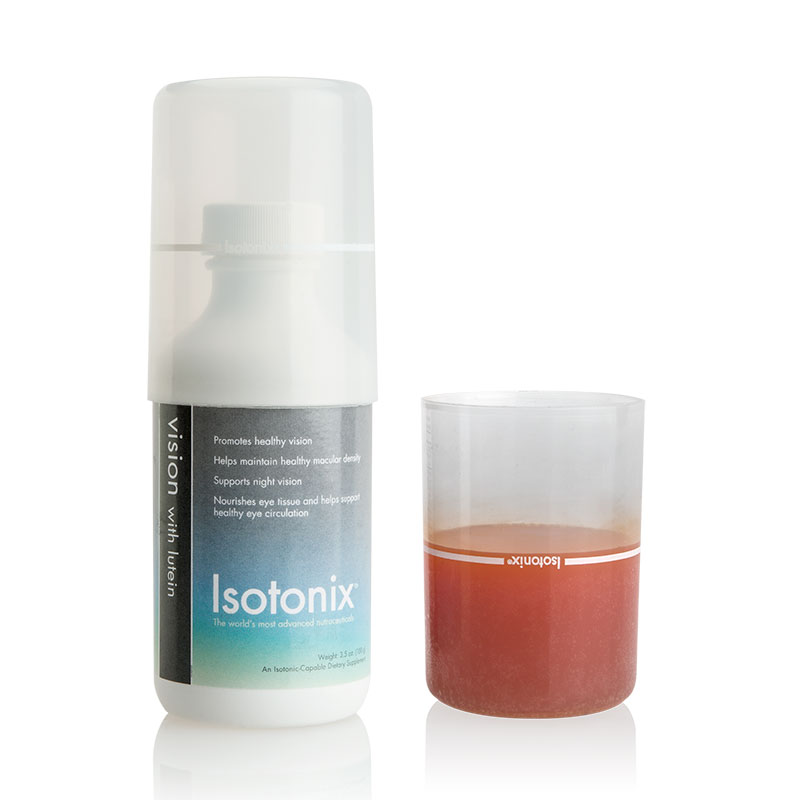 Isotonix products offer one of the most efficient delivery systems in dietary supplements. Formulated using scientifically proven ingredients, Isotonix products provide both rapid delivery and good results.

Isotonix products are isotonic because they match the fluids in the body, which have an almost constant concentration of dissolved particles like salts, sugars and minerals. At this concentration, nutrients and molecules essential for cell metabolism are efficiently transported through cell membranes. Isotonix products are formulated with the proper balance of fructose, glucose, citric acid, potassium bicarbonate and other key ingredients to assure that they are isotonic when properly prepared.

Isotonix products deliver nutrients at the right rate and concentration for complete absorption of the nutrient-dense solution. Isotonix is one of the most scientifically advanced nutrient delivery systems on the market.
Ingredients
---
Beta-carotene (Vitamin A precursor)
Vitamin A is part of a family of compounds including retinol, retinal and beta-carotene. Beta-carotene, also known as pro-vitamin A, can be converted into vitamin A when additional levels are required. Vitamin A helps to promote healthy vision while supporting night vision.

Vitamin C
Vitamin C is found in peppers (sweet, green, red, hot red and green chili), citrus fruits and Brussels sprouts, cauliflower, cabbage, kale, collards, mustard greens, broccoli, spinach, guava, kiwi fruit, currants and strawberries. Nuts and grains contain small amounts of vitamin C. It is important to note that cooking destroys vitamin C activity.

Vitamin C provides antioxidant benefits to the body. The body does not manufacture vitamin C on its own, nor does it store it. Therefore, Vitamin C must be acquired through diet and supplementation.

Vitamin E
The most valuable sources of dietary vitamin E include vegetable oils, margarine, nuts, seeds, avocados and wheat germ. Safflower oil contains large amounts of vitamin E and there are trace amounts in corn oil and soybean oil. Vitamin E is actually a family of related compounds called tocopherols and tocotrienols.

The main health benefit of supplemental vitamin E comes from its antioxidant activity. Vitamin E is one of the most powerful fat-soluble antioxidants in the body. In turn, vitamin E protects cell membranes from free radical damage.

Lutein and Zeaxanthin
Lutein and Zeaxanthin are carotenoids found together in many fresh fruits and vegetables. Within the eye, they are found as pigments in the macula and retina. Lutein and Zeaxanthin act as antioxidants to protect the eye from free radical damage. They help to build macular pigment density, a critical factor in the health of the macula and retina in relation to the clarity of the lens. They also act as filters of blue-light to protect the photoreceptor cells of the retina from light damage. Blue-light wave lengths can generate free radical damage.

Bilberry
Bilberry extract is derived from the leaves and berry like fruit of a common European shrub closely related to the blueberry. Extracts of the ripe berry are known to contain flavonoid pigments known as anthocyanins. They act as powerful antioxidants. Scientific studies confirm a positive effect on vision and vein issues. Bilberry supports night vision and eases eyestrain while nourishing eye tissue and supporting healthy circulation in the eye. Many of the bioflavanoids in bilberry have antioxidant effects, strengthen the structural integrity of blood vessels and promote healthy circulation to small capillaries that deliver oxygen and nutrients to the eyes.

Eyebright
Eyebright is an annual plant with deeply-cut leaves and small, white or purple flowers variegated with yellow, native toGreat Britain. There are over twenty species of Eyebright that extend over Europe, Northern and Western Asia andNorth America. The medicinal portion of eyebright comes from fluid extracted just above the root only when the plant is in bloom.

Eyebright is used for eye fatigue. Eyebright has been used by herbalist since the sixteenth century for problems of the eyes.

Chromium
Chromium is found naturally in some cereals, meats, poultry, brewer's yeast, broccoli, prunes mushrooms, fish and beer. Chromium is an essential trace mineral that plays an important role in glucose metabolism.

Copper
The richest sources of dietary copper derive from organ meats, seafood, nuts, seeds, wheat bran cereal, whole grain products and cocoa products. Copper may have some antioxidant properties and acts as a component of enzymes in iron metabolism. It is an essential trace mineral.

Zinc
Zinc is largely found in fortified cereals, red meats, eggs, poultry and certain seafood, including oysters. It is a component of multiple enzymes and proteins. It is also involved in the regulation of gene expression. Zinc is an essential trace mineral that has functions in approximately 300 different enzyme reactions. Thus, zinc plays a part in almost all biochemical pathways and physiological processes.

Quercetin
Quercetin is a bioflavonoid that is an excellent antioxidant working synergistically with vitamin C to strengthen the walls of the intricate blood vessels in the eye. It also helps to maintain lens transparency. Quercetin has been shown to inhibit the enzyme aldose reductase. Aldose reductase has been known to contribute to poor eye health.

L-Taurine
L-Taurine is a building block for all the other amino acids. It aids in the transport of potassium, sodium, calcium and magnesium in and out of cells, thus helping to generate nerve impulses. It is a non-protein amino acid and is found in high amounts in the brain, retina, myocardium, skeletal and smooth muscle, platelets and neutrophils. Taurine has antioxidant and membrane-stabilising activities. It helps protect the eyes from the harmful effects of UV light and stabilises the membranes in the cones cells of the eye. It also supports healthy cholesterol and blood pressure levels.
FAQ
---
How does the Isotonix Vision Formula with Lutein work?
In the Age-Related Eye Disease Study sponsored by the National Institute of Health, ingredients like those in Isotonix Vision Formula with Lutein were found to support eye health. The antioxidants in Isotonix Vision Formula with Lutein promote a healthy eye by neutralising free radicals.

How is the Isotonix Vision Formula with Lutein different from other vision formulas?
Isotonix Vision Formula with Lutein contains 14 of the known essential vitamins and minerals that contribute to overall vision health. Additionally, it is isotonic form, which contributes to maximum absorption by the body.

What if I am taking a prescription, is Isotonix Vision Formula with Lutein safe?
While all of the ingredients in Isotonix Vision Formula are found in nature and unlikely to interfere with any prescription, it would be wise to contact your healthcare provider before including this or any other dietary supplement in your nutritional regimen.

What is an antioxidant?
Antioxidants act as cell protectors by neutralising free radicals. Free radicals are harmful byproducts that can cause cellular damage that can lead to serious health problems. Free radicals cause oxidative damage to the body, meaning pre-mature ageing, hardening of the arteries, stiffened joints, and wrinkling of the skin. Air pollution, heavy exercise, stress and smoking can all contribute to creating harmful free radicals.

Does Isotonix Vision Formula with Lutein contain pork or pork products?
No.

Does this product have "No Detectable GMOs"?
This product is tested with no GMO detected. This product's raw material may contain genetically modified materials/ingredients, but the finished product does not contain any transgenic DNA fragments or transgenic proteins.
Is Isotonix Vision Formula with Lutein manufactured in a GMP (Good Manufacturing Practice) facility?
Yes, this product is manufactured in a GMP-compliant facility which is inspected by the Food and Drug Administration (FDA) of the United States of America.
Reviews
---
Displaying reviews
1 - 5

of

36
No more dry and tired eyes
My eyes no longer feel tired and dry after working for the entire day on the computer after consuming Isotonix Vision on a daily basis.
No more dry eyes - Summer
This is amazing products that helped me battle with my daily dry eyes.
Just love it!!
Response from Customer Service:
Dear Valued Customer,

Thank you for taking the time to leave your thoughts on Isotonix® Vision Formula with Lutein. We are happy to hear you are pleased with the product.

Thank you again!
Market Singapore Product Team
Help me in my dry eyes and i feel more comfortable.
Response from Customer Service:
Dear Valued Customer,

Thank you for taking the time to leave your thoughts on Isotonix® Vision Formula with Lutein. We are happy to hear you are pleased with the product.

Thank you again!
Market Singapore Product Team
Isotonix Vision is a good supplement for my kids. They no longer feel so tired after spending long time looking at the computer.

Response from Customer Service:
Dear Valued Customer, Thank you for taking the time to leave your thoughts on the Isotonix® Vision Formula with Lutein. We are happy to hear you are pleased with the product. Thank you again! Market Singapore Product Team
Helps in preventng my eyes from getting dry and teary daily from light exposure.
Response from Customer Service:
Dear Valued Customer,

Thank you for taking the time to leave your thoughts on the Isotonix® Vision Formula with Lutein. We are happy to hear you are pleased with the product.

Thank you again! Market Singapore Product Team