Product info
Benefits
---
Provides antioxidant protection
Supports a healthy immune system
Maintains skeletal, muscle, cardiovascular and skin health

Gluten-Free - The finished product contains no detectable gluten.

No Detectable GMO - The finished product contains no detectable genetically modified organisms.

Vegan - The product is made without ingredients produced by or derived from animals.

Isotonic-Capable Supplements: Easy-to-swallow isotonic supplements that allow for faster nutrient absorption by the body. Individual response varies.

No Pork - This product contains no pork or pork products.

MAHP2000196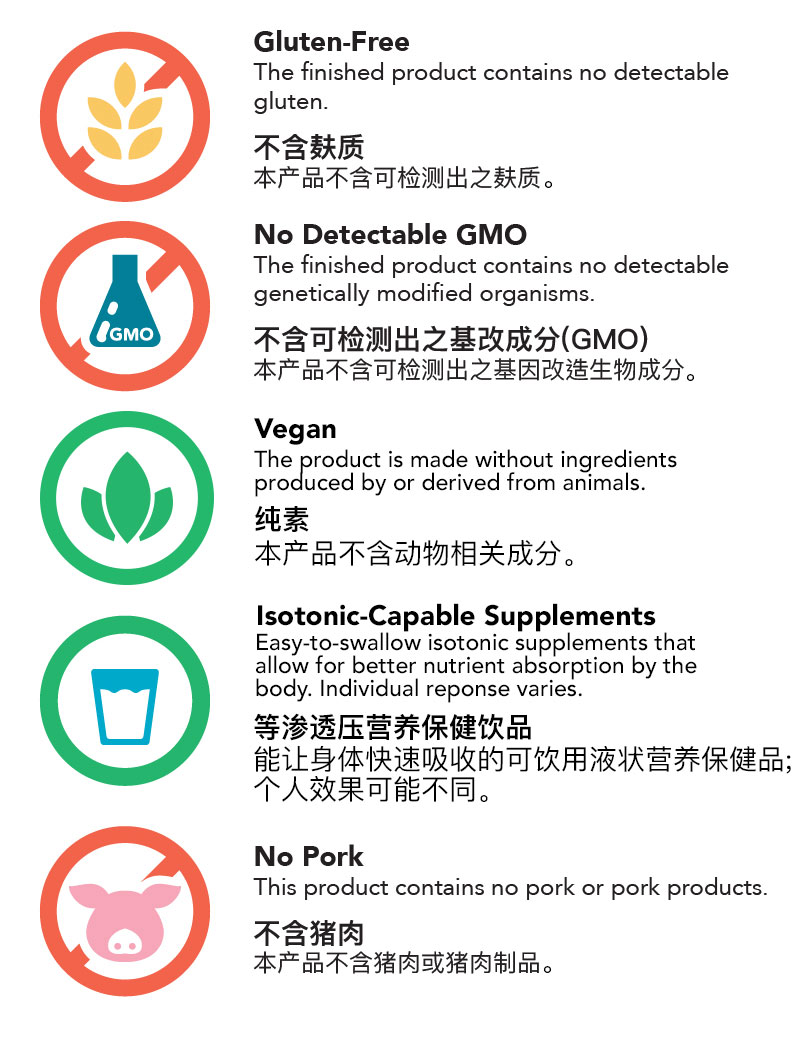 Details
---
The two important factors when searching for quality nutritional supplements are absorption and benefits. Isotonix supplements, when mixed with water, have similar osmotic pressure as the body's fluids, such as tears, plasma and blood. Isotonix Vitamin C can provide absorption and delivery of the nutrients within the product in an efficient way.

Individual response varies.

MAHP2000196

Ingredients
---
Vitamin C
The best food sources of vitamin C include all citrus fruits (oranges, grapefruit, lemons and tangerines), strawberries, tomatoes, broccoli, Brussels sprouts, peppers and cantaloupe. Vitamin C is a "fragile" vitamin and can be easily destroyed by cooking or exposure to oxygen.

Vitamin C is a cofactor or helper in the metabolism of some amino acids and hormones. It is a co-factor in the synthesis of collagen and helps support newly forming collagen. Vitamin C supports cardiovascular health and the immune system. Some of Vitamin C's benefits appear to be due to its antioxidant properties. Vitamin C also plays a role in maintaining healthy connective tissues, including collagen.

Vitamin C is necessary for humans as humans are incapable of producing vitamin C in their bodies. Vitamin C is known for its antioxidant properties. Since it is water-soluble, vitamin C is flushed from the body each day. As humans may not always eat foods containing an adequate amount of vitamin C, taking a supplement can help in supplementing diet.

Beta Carotene (Vitamin A Precursor)
Vitamin A is a fat-soluble vitamin that is part of a family of compounds including retinol, retinal and beta-carotene. Beta-carotene is also known as pro-vitamin A because it can be converted into vitamin A. Vitamin A helps to maintain healthy eyes and immune system.

Potassium
Foods rich in potassium include fresh vegetables and fruits, such as bananas, oranges, cantaloupe, avocado, raw spinach, cabbage and celery. Potassium is an essential mineral that helps to keep fluid balance. It also plays a role in a wide variety of biochemical and physiological processes. It supports nerve and muscles health.

MAHP2000196

FAQ
---
Can Isotonix Vitamin C support my immune system?
Yes. Vitamin C is known to be able to support the immune system and is an antioxidant.

Who can supplement with Isotonix Vitamin C?
Individuals who wish to supplement their diet or those who wish to support their immune system can use Isotonix Vitamin C. Consumers with pre‐existing conditions should seek advice from their healthcare professionals.

What happens when I take too much Isotonix Vitamin C?
At high doses (over 1000mg/day), some people can experience gastrointestinal side effects such as stomach cramps, nausea, and diarrhea.

How should I take Isotonix Vitamin C?
Isotonix Vitamin C is for ADULT USE ONLY. Pour 1 level, white bottle capful of powder into the overcap. Add water to the line on the overcap (2 fl. oz./60 ml) and stir. As a dietary supplement, take once daily or as directed by your healthcare provider. Maximum absorption occurs when taken on an empty stomach. This product is isotonic only if the specified amounts of powder and water are used.

Does Isotonix Vitamin C contain pork or pork products?
No.

Is Isotonix Vitamin C manufactured in a Good Manufacturing Practice (GMP) facility?
Yes, this product is manufactured in a GMP compliant facility.

MAHP2000196

Reviews
---
Displaying reviews

1

-

5

of 79
Vit C
Nice taste ! whole family members like it much especially kids
Response from Customer Service:
December 2, 2020
Dear Valued Customer,

Thank you for taking the time to leave your thoughts on the Isotonix® Vitamin C! We are happy to hear you are pleased with the product.

Thank you again!
Market Singapore Product Team
taste great
sweet taste that anyone would never resist it.
Vitamin C
Since taking Isotonix Vit C for more than a year it's has helped to boost my immune system and easy delivery too. I am now more energetic and have at least 4 times a week go for an hour brisk walking. I'm physically fit thanks to Vitamin C.
Reliable delivery
Very prompt delivery. Products intact.
Taste great
I really love isotonic vitamin c as it taste great and with resonable price and high absorb rate. Greatly recommend this product if you have not try it yet