Product info
Benefits
---
High ORAC (Oxygen Radical Absorption Capacity) value
Provides antioxidant support
Contains various high ORAC berries and fruits
Product Classifications
---
No Detectable GMO - The finished product contains no detectable genetically modified organisms.
Vegan - The product is made without ingredients produced by or derived from animals.
Isotonic-Capable Supplements - Easy-to-swallow isotonic supplements that allow for better nutrient absorption by the body.
No Pork - This product contains no pork or pork products.
Quality Standards - GMP Operations and Standardised Ingredients
Checked For: Heavy Metals, Microbiological Contaminants, Allergens, Potency, Purity and Identity
Details
---
Absorption and effectiveness of nutritional supplements are two important features to examine when selecting a nutritional supplement. Isotonix Maximum ORAC Formula contains both. This supplement is in isotonic form, which helps the nutrients to be absorbed into your system efficiently. When taken on an empty stomach, the isotonic fluid is delivered to the small intestine in a concentrate form. There it can be absorbed into the body a good rate with little loss of nutritive value.

Unlike other forms of oral supplementation, Isotonix products are not encapsulated, so there is no need for fillers, binders, coatings, disintegrators or artificial coloring.

A good ORAC supplement should contain high-ORAC value foods, such as blueberries, cranberries and elderberries. The use of natural vitamin E and vitamin C in ORAC supplements can contribute to an antioxidant network inside cells, which may offer more protection than using a single agent.
Isotonix Delivery System
---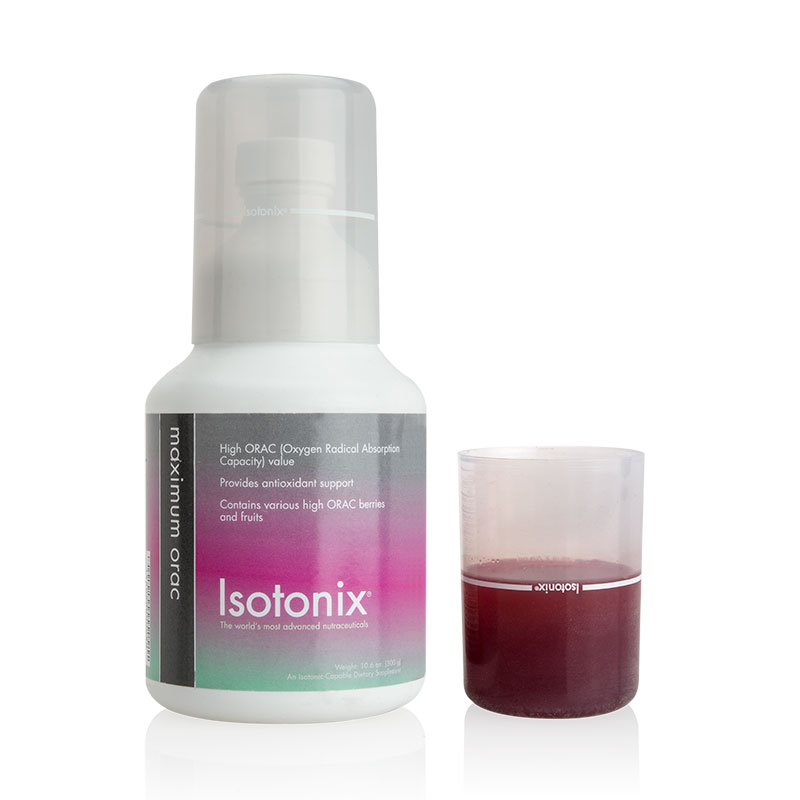 Isotonix products offer one of the most efficient delivery systems in dietary supplements. Formulated using scientifically proven ingredients, Isotonix products provide both rapid delivery and good results.

Isotonix products are isotonic because they match the fluids in the body, which have an almost constant concentration of dissolved particles like salts, sugars and minerals. At this concentration, nutrients and molecules essential for cell metabolism are efficiently transported through cell membranes. Isotonix products are formulated with the proper balance of fructose, glucose, citric acid, potassium bicarbonate and other key ingredients to assure that they are isotonic when properly prepared.

Isotonix products deliver nutrients at the right rate and concentration for complete absorption of the nutrient-dense solution. Isotonix is one of the most scientifically advanced nutrient delivery systems on the market.
Ingredients
---
Mixed Berry Extracts
Each serving of Isotonix Maximum ORAC contains 653 mg of berry extracts from high-ORAC value foods, such as elderberry, blueberry and cranberry. These berry extracts contain an assortment of bioflavonoids, organic acids and other polyphenolic compounds that work synergistically to defend against free-radical damage.

Vitamin C
Vitamin C (known as ascorbic acid), an essential nutrient for humans, is needed for metabolic reactions in the body. Foods such as oranges, lemons, grapefruit, strawberries, tomatoes, brussels sprouts, peppers and cantaloupes are good sources of vitamin C. Vitamin C is known for its function as one of the key nutritional antioxidants that protect the body from free-radical damage and cellular strengthening. It is an essential cofactor for the enzymes involved in the synthesis of collagen.

Vitamin E
Since vitamin E is one of the most powerful fat-soluble antioxidants in the body, it helps protect cell membranes from the damage caused by free radicals. Vitamin E has also been found to promote cardiovascular health.

Blueberry Fruit Extract
Blueberries rank high among many fruits and vegetables for ORAC activity and contain 25-30 different types of anthocyanins. Anthocyanins give blueberries (and other fruits) their rich blue and red coloring, and are flavonoid antioxidants. Blueberries provide large amounts of chlorogenic acid, which is thought to be important in promoting cellular health.

Cranberry Concentrate
Cranberry is a small evergreen shrub containing dark pink flowers that grows in damp bogs and mountain forests. The shrub's small red fruits, called cranberries, are produced in the fall. Cranberries contain proanthocyanidina which help promote urinary tract health. Cranberries have a high ORAC value which allows them to provide some antioxidant benefit for the body.

Grape Juice Powder
Grapes contain a variety of phenolic compounds, including anthocyanidins, cinnamates and flavan-3-ols. Anthocyanidins are powerful flavonoid antioxidants that contribute to maintaining cellular health. Grape juice can be effective in supporting cardiovascular health.

Raspberry Fruit Powder
Raspberries contain significant amounts of polyphenol antioxidants which can support cardiovascular health. Raspberries are high in fiber are an excellent source of vitamin C and manganese, a good source of vitamin K and magnesium, and contain some calcium and iron. Raspberries provide some antioxidant benefits and have a high ORAC value.

Elderberry Extract
Elderberries contain the flavonoids rutin, isoquercetin and hyperoside as well as anthocyanin glycosides and essential oil. Elderberries have historically been used to make elderberry wine, elder brandy, and sambuca, a popular cordial. Elderberries have a high ORAC value.

Pomegranate Fruit Extract
Pomegranates are good sources of vitamin C, folic acid and antioxidants. Pomegranates are high in polyphenols. The most abundant polyphenols in pomegranate are hydrolysable tannins, particularly punicalagins.

Black Currant Fruit Extract
Black currant fruit contain anthocyanins, vitamin C, B vitamins, vitamin A, potassium, magnesium, iron, and calcium. Black currant fruit have high ORAC values.

FAQ
---
What is an antioxidant?
Antioxidants work to protect healthy cells from radical elements. Antioxidants can give up their own electrons to free radicals. When a free radical gains an electron from an antioxidant, the radical then becomes stabilised and cannot harm other cells.

Where do free radicals come from?
Simply breathing (respiration), metabolising food and generating ATP to fuel enzymatic reactions can create free radicals.

What does O.R.A.C. stand for?
Oxygen Radical Absorption Capacity is an assay that measures the antioxidant activity of a substance. ORAC assays measure how many oxygen radicals a substance can absorb. The higher its ORAC score, the better.

What is the difference in taking an isotonic formula as compared to taking traditional tablets?
Isotonic solutions offer the fastest and most efficient delivery of all oral forms of supplementation. The nutrients in the solutions are quickly and effectively absorbed into the bloodstream, and do not linger in the stomach causing gastrointestinal discomfort. Isotonix products are not encapsulated, so there is no need for them to contain fillers, binders, coatings, disintegrators or artificial colouring like there can be in traditional nutrient supplements.

Does Isotonix Maximum ORAC contain pork or pork products?
No.

Does this product have "No Detectable GMOs"?
This product is tested with no GMO detected. This product's raw material may contain genetically modified materials/ingredients, but the finished product does not contain any transgenic DNA fragments or transgenic proteins.

Is Isotonix Maximum ORAC manufactured in a Good Manufacturing Practice (GMP) facility?
Yes, this product is manufactured in a GMP-compliant facility which is inspected by the Food and Drug Administration (FDA) of the United States of America.
Reviews
---
Displaying reviews
1 - 5

of

28
Great taste & Colour for my Immune System
I add OPC-3 to my daily ORAC cocktail for good health. It's packed with antioxidants to protect against free radicals, boost your immune system, and tastes great. Plus, it's visually appealing.
Response from Customer Service:
Dear Valued Customer,

Thank you for taking the time to leave your thoughts on Isotonix® Maximum ORAC. We are happy to hear you are pleased with the product.

Thank you again!
Market Singapore Product Team
I like to add ORAC to my daily supplements as it enhance my immunity and it tastes great. Love the berries taste.
Response from Customer Service:
Dear Valued Customer,

Thank you for taking the time to leave your thoughts on Isotonix® Maximum ORAC. We are happy to hear you are pleased with the product.

Thank you again!
Market Singapore Product Team
After using this product, I have so much energy.
Response from Customer Service:
Dear Valued Customer,

Thank you for taking the time to leave your thoughts on Isotonix® Maximum ORAC. We are happy to hear you are pleased with the product.

Thank you again!
Market Singapore Product Team
I love this products as it is so tasty and my skin become fair after 1 bottle of ORAC
Response from Customer Service:
Dear Valued Customer,

Thank you for taking the time to leave your thoughts on Isotonix® Maximum ORAC. We are happy to hear you are pleased with the product.

Thank you again!
Market Singapore Product Team
A great antioxidant combination
I take this with my Isotonix Women's Health, it gives the added berry taste which i enjoy very much. Power pack antioxidant u need
Response from Customer Service:
Dear Valued Customer,

Thank you for taking the time to leave your thoughts on Isotonix® Maximum ORAC. We are happy to hear you are pleased with the product.

Thank you again!
Market Singapore Product Team