Product info
Benefits
---
Contains a digestive blend of amylase, protease, cellulase, lactase, maltase, sucrase and lipase enzymes
Provides enzymes that promote nutrient absorption from foods
Probiotics helps support a healthier intestinal tract environment & digestive system

Promotes digestion
Gluten-Free - The finished product contains no detectable gluten.

No Detectable GMO - The finished product contains no detectable genetically modified organisms.

Vegan - The product is made without ingredients produced by or derived from animals.

Isotonic-Capable Supplements - Easy-to-swallow isotonic supplements that allow for better nutrient absorption by the body.

No Pork - This product contains no pork or pork products.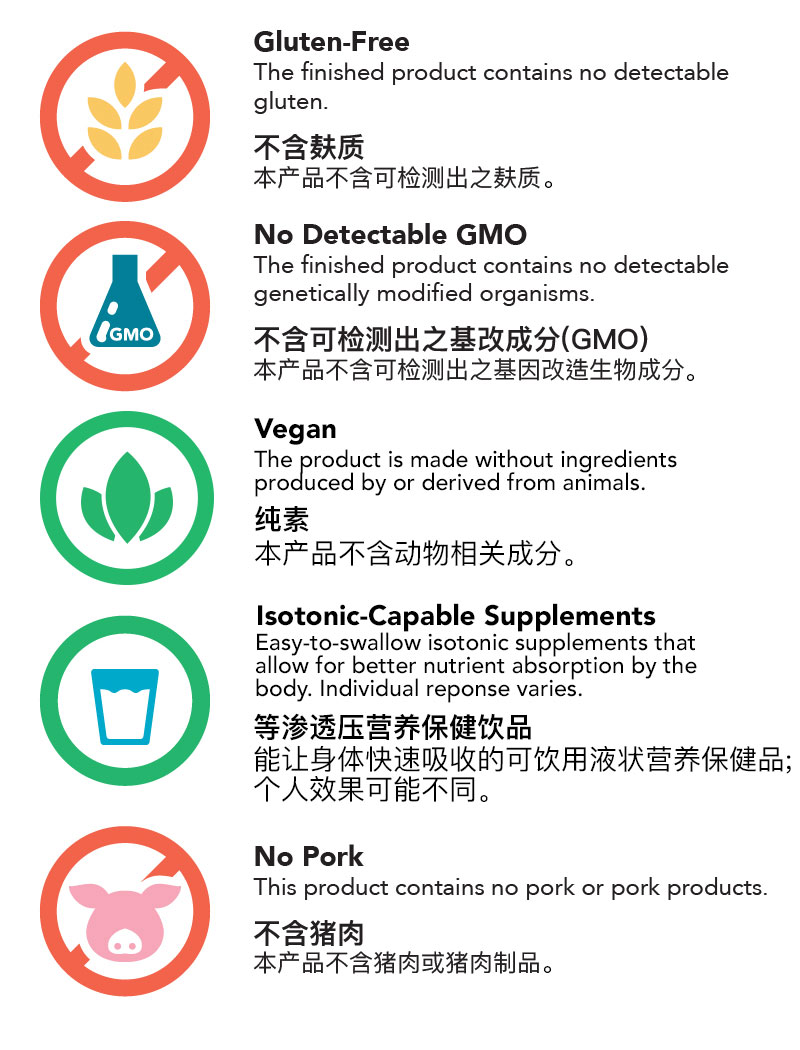 Details
---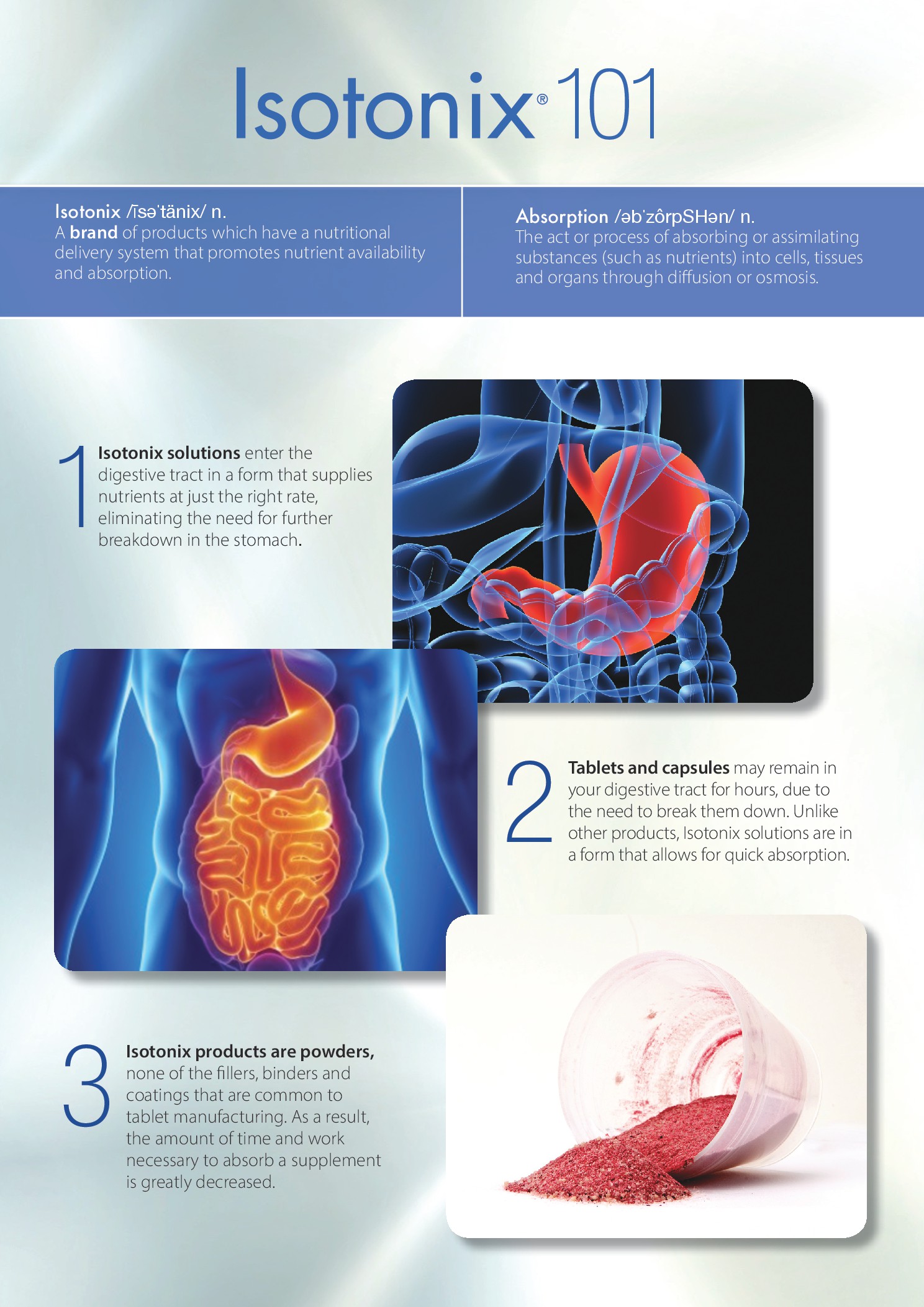 Processed foods are the norm these days, not making it any easier for your body to digest and take in all the essential nutrients you need. Foods that would otherwise offer us their own added enzymes to help our bodies absorb more nutrients are increasingly processed, heated for extended shelf life and stripped of vital elements. Other poor eating habits and even ageing can also contribute to inhibiting a healthy digestive process. This means our bodies may need to work harder to absorb nutrients that keep us healthy and functioning. Isotonix Digestive Enzymes with Probiotics was designed to provide your body with enzymes and good bacteria to promote the absorption of nutrients.

Isotonix Digestive Enzymes with Probiotics features DigeZyme®† – a blend of amylase, protease, cellulase, lactase and lipase – and Lactospore®†(Bacillus coagulans). Digestive enzymes help your body to break down food in order to utilise the nutrients in the food. The addition of probiotics helps support a healthier intestinal tract environment.

Isotonix Digestive Enzymes with Probiotics helps to promote digestion with its unique blend of digestive enzymes and probiotics.

†DigeZyme® and Lactospore® are registered trademarks of the Sabinsa Corporation.
  
Isotonix Delivery System
---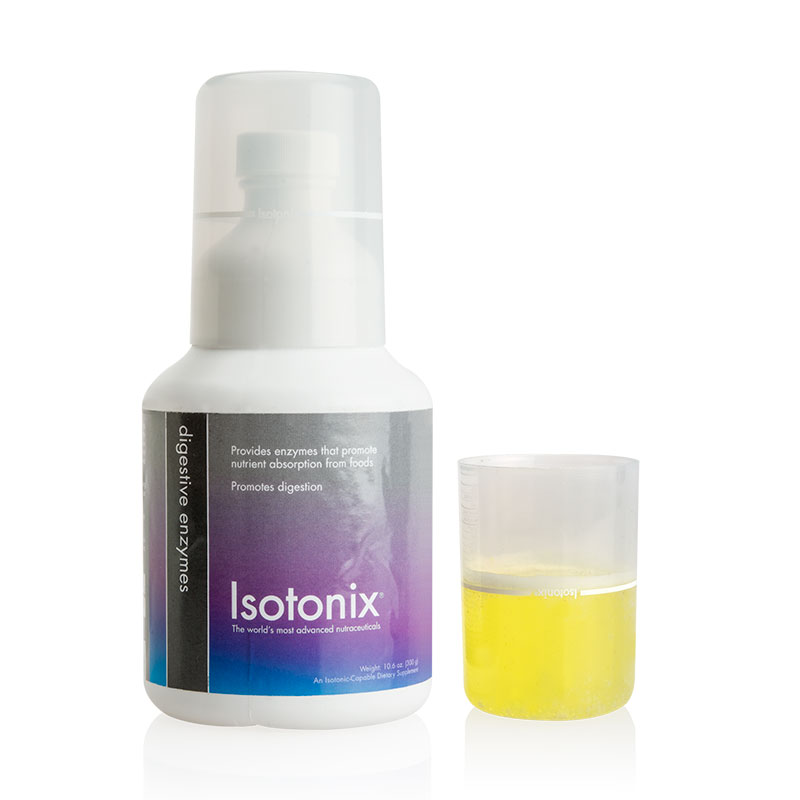 Isotonix products offer one of the most efficient delivery systems in dietary supplements. Formulated using scientifically proven ingredients, Isotonix products provide both rapid delivery and good results.

Isotonix products are isotonic because they match the fluids in the body, which have an almost constant concentration of dissolved particles like salts, sugars and minerals. At this concentration, nutrients and molecules essential for cell metabolism are efficiently transported through cell membranes. Isotonix products are formulated with the proper balance of fructose, glucose, citric acid, potassium bicarbonate and other key ingredients to assure that they are isotonic when properly prepared.

Isotonix products deliver nutrients at the right rate and concentration for complete absorption of the nutrient-dense solution. Isotonix is one of the most scientifically advanced nutrient delivery systems on the market.
Ingredients
---
DigeZyme
DigeZyme is a multienzyme complex composed of amylase (starch hydrolysing enzyme), protease (protein hydrolysing enzyme) and lipases (lipid hydrolysing enzymes). These digestive enzymes collectively support the breakdown of complex macromolecules into nutrients needed by the body. The digestive system naturally produces digestive enzymes. DigeZyme supplements the gastrointestinal tract with enzymes to support the body's natural ability to digest food. In addition to the amylase, protease, and lipase, DigeZyme contains two additional digestive enzymes including lactase (lactose hydrolysing enzyme) and cellulase (cellulose hydrolysing enzyme).

Sucrase
Sucrase is a digestive enzyme secreted by the villi of the epithelium in the small intestine that supports the hydrolysis (chemical breakdown) of sucrose, also known as table sugar, into glucose and fructose. Glucose and fructose can then be used by the body for energy.

Bacillus coagulans (Lactospore®†)
Bacillus coagulans is a lactic acid producing bacteria which produces reproductive spores. These spores can survive the harsh stomach acids, which means they can reach the intestinal track intact. In the intestines, the spores can take up residence and create colonies of bacterium that may provide some health benefits.

†DigeZyme® and Lactospore® are registered trademarks of the Sabinsa Corporation.
±DU, PC, CU, LAC, FIP, SU = Units of enzyme activity
‡CFU = Colony Forming Units
FAQ
---
What are digestive enzymes?
Digestive enzymes are special catalytic proteins that help our bodies break down food to utilise the complete spectrum of nutrients in the food we eat. Isotonix Digestive Enzymes with Probiotics acts to supplement and maximise the activity of the body's own enzymes in an easy-to-take, pleasant-tasting drink.

Isotonix Digestive Enzymes with Probiotics provides additional digestive enzymes for the body in order to maximise the absorption of nutrients from the food we eat.

How do enzymes function in the body?
Enzymes are the workhorses of our cells. They are proteins that catalyse many thousands of biochemical reactions in the body. While most enzymes work inside our cells, digestive enzymes operate outside the cells in the gastrointestinal tract.

The start of digestion begins with digestive enzymes secreted by salivary gland cells into our mouths. Cells lining the gastrointestinal tract also contribute enzymes. In addition, digestive enzymes are produced in the pancreas and are emptied into the upper part of the small intestine.

These enzymes help to break apart proteins, starch, lactose and fats, allowing the body to optimise its effort to digest food. The result is a more complete digestive process, resulting in better nutritional absorption. Isotonix Digestive Enzymes with Probiotics supplies enzymes that are not inactivated by stomach acid. What this means is that the supplemental enzymes mix work in concert with the body's own digestive enzymes to release as many of the nutrients from food as possible.

What are probiotics?
Probiotics are beneficial bacteria that are believed to impart health benefits. Our bodies contain both "good" and "bad" bacteria in our digestive system. Probiotics are good bacteria given as a supplement to support digestive health.

Does Isotonix Digestive Enzymes with Probiotics contain pork or pork products?
No.

Is Isotonix Digestive Enzymes with Probiotics vegan?
Yes.

Is Isotonix Digestive Enzymes with Probiotics manufactured in a Good Manufacturing Practice (GMP) facility?
Yes, this product is manufactured in a GMP compliant facility which is inspected by the Food and Drug Administration (FDA) of the United States of America.

Reviews
---
Displaying reviews

1

-

5

of 173
No more bloatedness
I used to suffer from bloatedness after food. Since taking the enzymes, I have found that I no longer suffer from indigestion and bloatedness as they help me with digesting the food taken in.
Refreshing Digestive Enzyme
It helps my bloatedness
No more bloatedness
Digestive Enzyme is my daily essential. I used to have irregular bowel movement n bloatedness due to my irregular meals n diet that lacking in fiber. Since i started digestive enzymes, i have no more bloatedness n find my digestive health improved and my bowel movement much improved!! ❤❤❤❤❤
A must to have Digestive Enzymes after meal 👍
Isotonix Digestive Enzyme really helps me overcome my digestive problem. I no longer feeling bloated & my digestive problem are gone too.
What A Difference It Makes!
I am a food lover and on most weekends, my family will go in search of new joints and popular places that serve good food. And more often than not, we will over eat, leaving our stomachs feeling bloated. After every meal, I must have the Isotonix Digestive Enzyme. it aids my digestion and I do not feel bloated almost immediately. I simply love this lemony drink and will always have a few sachets in my handbag. You must try it!