Product info
Benefits
---
Supports red blood cell formation
Supports metabolism and energy levels
Supports cardiovascular health
Gluten-Free
- The finished product contains no detectable gluten.
No Detectable GMO
- The finished product contains no detectable genetically modified organisms.
Vegan
- The product is made without ingredients produced by or derived from animals.
Isotonic-Capable Supplements:
Easy-to-swallow isotonic supplements that allow for faster nutrient absorption by the body. Individual response varies.
No Pork
- This product contains no pork or pork products.
MAHP2000196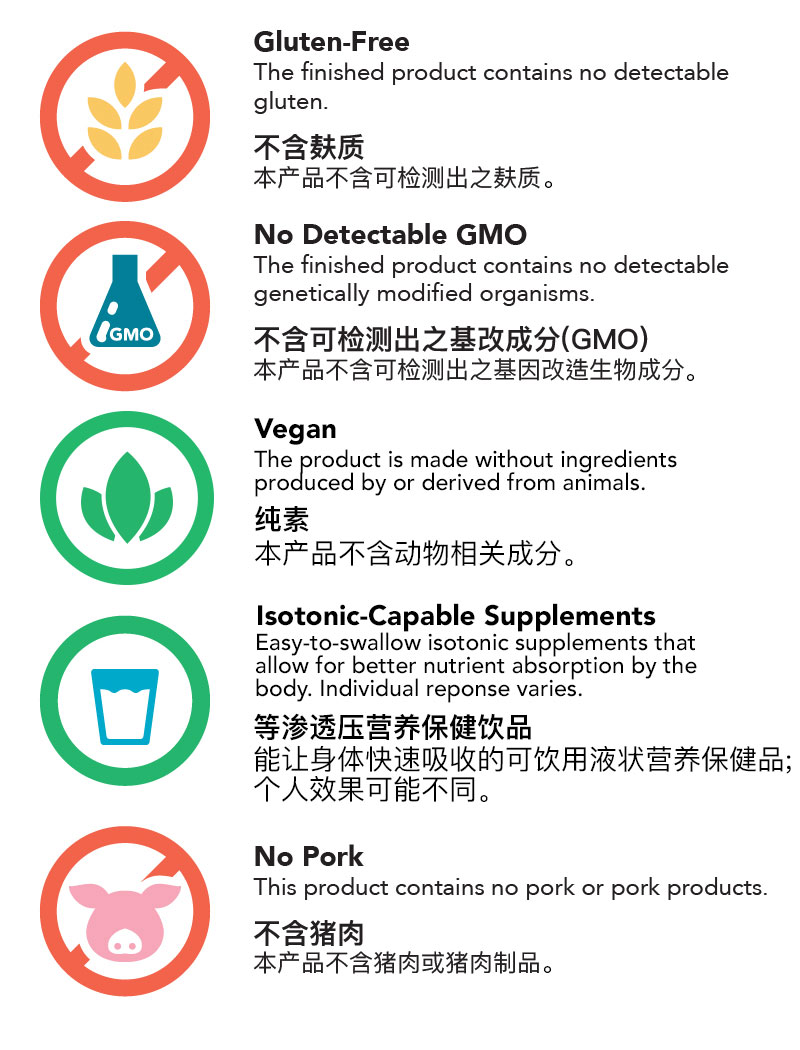 Details
---
The two important components when searching for nutritional supplements are absorption and benefits. Isotonix dietary supplements, when appropriately mixed with water, have a similar osmotic pressure as some of the body's fluids, such as tears and plasma. This allows for good delivery and absorption of the nutrients through the unique Isotonix delivery system.

Isotonix Advanced B-Complex is an isotonic-capable combination of the essential B vitamins with magnesium and potassium to support health. Isotonix Advanced B-Complex provides the vitamins B-12, B2 (riboflavin), B6, folic acid, vitamins B3 (niacin), B5, B1 and biotin. Isotonix Advanced B-Complex works by supporting red blood cell formation, energy levels and cardiovascular health.

MAHP2000196

Ingredients
---
Vitamin B12
Vitamin B12, is found in organ meats, liver, beef, pork, eggs, whole milk, cheese, whole wheat bread and fish. Small amounts can also be derived from the fermented soy products miso and tempeh. Individuals who wish to supplement their diet can consider consuming a vitamin B12 supplement to maintain optimal health. Vitamin B12 supports energy metabolism and red blood cell formation.

Folic Acid
Folic acid is mainly found in fruits and vegetables. Dark, leafy greens, oranges, orange juice, beans and peas are the best sources, as well as Brewer's yeast, which supply additional B vitamins. Folic acid and Vitamin B12 work together in helping to support healthy red blood cells. Folic acid is a component of co-enzymes.

Vitamin B2
Vitamin B2 is found in liver, dairy products, dark green vegetables and some types of seafood. Vitamin B2 serves as a co-enzyme, working with other B vitamins. It supports healthy red blood cell and plays a role in turning food into energy. Vitamin B2 is water-soluble and must be replenished daily.

Vitamin B6
Poultry, fish, whole grains and bananas are the main dietary sources of vitamin B6. Vitamin B6 aids in the conversion of glycogen to glucose for energy in muscle. Vitamin B6 helps support cardiovascular health.

Magnesium
Foods rich in magnesium include unpolished grains, nuts and green vegetables. Green, leafy vegetables are rich sources of magnesium because of their chlorophyll content. Meats, starches, milk, refined and processed foods contain low amounts of magnesium. Magnesium is a component of the mineralised part of bone, and is involved in the transportation of potassium and calcium in adults. Magnesium helps to support nerve health and energy needs.

Potassium
Potassium is an electrolyte stored in the muscles. Foods rich in potassium include bananas, oranges, cantaloupe, avocado, raw spinach, cabbage and celery. Potassium is an essential mineral that helps maintain fluid balance in the body. It supports cardiovascular health.

Vitamin B1
Thiamin plays an important role in carbohydrate metabolism. It supports energy metabolism and helps maintain a healthy cardiovascular system.

Pantothenate (Vitamin B5)
Pantothenic acid is used in the release of energy, as well as in the metabolism of fats, proteins and carbohydrates.

Niacin (Vitamin B3)
Niacin is found in dairy products, poultry, fish, lean meats, nuts, eggs, legumes, and enriched breads and cereals. It is a water-soluble vitamin necessary for many aspects of health. Niacin is important for the conversion of food to energy.

Biotin
Biotin can be found in food sources, such as egg yolks, peanuts, beef liver, milk, cereals, almonds and Brewer's yeast.

MAHP2000196
FAQ
---
What is Isotonix Advanced B-Complex?
Isotonix Advanced B-Complex is an isotonic-capable combination of the essential B vitamins with magnesium and potassium to support health. Isotonix Advanced B-Complex provides the vitamins B-12, B2 (riboflavin), B6, folic acid, vitamins B3 (niacin), B5, B1 and biotin.

Why are B vitamins important in the ageing process?
In general, the ability to absorb B vitamins may decrease with age.

Are there any warnings or contraindications for Isotonix Advanced B-Complex?
If you are currently using prescription medications or have an existing medical condition, you should consult your healthcare provider before using this product.

How do I take Isotonix Advanced B-Complex?
This product is for ADULT USE ONLY. Pour one (1) level, white bottle capful of powder into the overcap. Add water to the line on the overcap (60 ml) and stir. As a dietary supplement, take once daily or as directed by your healthcare provider. Maximum absorption occurs when taken on an empty stomach. This product is isotonic only if the specified amounts of powder and water are used.

Does Isotonix Advanced B-Complex contain pork or pork products?
No.

Is Isotonix Advanced B-Complex manufactured in a Good Manufacturing Practice (GMP) facility?
Yes, this product is manufactured in a GMP-compliant facility.

MAHP2000196
Reviews
---
Displaying reviews

1

-

5

of 228
Happy Vitamin
Boost my energy and make me happy! :) :)
Response from Customer Service:
December 1, 2020
Dear Valued Customer,

Thank you for taking the time to leave your thoughts on the Isotonix® Advanced B-Complex! We are happy to hear you are pleased with the product.

Thank you again!
Market Singapore Product Team
Loving my B Complex
Always feels tired easily before consuming any isotonix products. After consuming my 2 caps of B complex, and 2 Caps of Acai..it works wonders for me..really give me a boost throughout the day!
help for a better focus
after taking B complex, i feel i can focus even better and manage my stress better.
if i take it at night, it help me relax and get a better sleep!
Power Isotonix B complex
I used to feel so sleepy every day even day time, but B complex really helps me to be energetic almost every day